Principal's Welcome
Dear Students,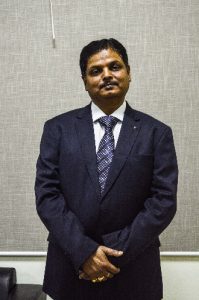 I extend a warm welcome to all aspiring individuals seeking admission to Atma Ram Sanatan Dharma College (ARSD). Our college holds the esteemed distinction of being NAAC accredited with an A++ grade with a score of 3.77 which is the highest in all the colleges of the University of Delhi to date. ARSD has attained all India 6th rank in the college category in the latest NIRF rankings by the Ministry of Education, Government of India. These accomplishments are a testimony to our commitment to excellence in every aspect of our institution.
At our college, we strive to provide a nurturing and intellectually stimulating environment that empowers students to discover their passions, develop critical thinking skills, and become well-rounded individuals. Our pledge to excellence in education, combined with a holistic approach to student development, ensures that every individual who walks through our doors receives the best possible education and experiences personal growth.
We offer a wide array of courses across various disciplines, ensuring that you can pursue your academic interests and embark on a career path that aligns with your aspirations which includes 17 courses in the streams of Arts, Science, and Commerce, along with various Add-on, Certificate and Value-addition courses. Our dedicated team of faculty members are experts in their respective fields, and they are passionate about imparting knowledge and guiding students in their academic pursuits. They employ innovative teaching methodologies, encourage interactive learning, and foster a spirit of inquiry and creativity. We believe that education goes beyond the confines of the classroom, and thus, we provide ample opportunities for experiential learning, internships, and research projects. The Placement Cell facilitates internships and job fairs, attracting reputable companies from various fields to our college and offering valuable opportunities to our students. Additionally, our Skill Development Cell provides vocational training and organizes short-term courses, enhancing students' employability.
We take immense pride in fostering a culture of undergraduate research and innovation at ARSD. Our collaborations, such as the DBT Science Centre, the Centre for Innovation and Entrepreneurial Leadership (CIEL) in partnership with the Ministry of MSME, and the Star College Scheme, stand as testaments to our commitment. Many of our students actively participate in research projects under the guidance of our esteemed faculty members. We have also launched an in-house Interdisciplinary Research and Innovation Projects Scheme called "Prabodh" and established the Central Instrumentation Facility (CIF) within our campus, providing students, researchers, and faculty members with the necessary resources to further enhance our research culture. Furthermore, our in-house tri-lingual magazine and newsletters offer platforms for students to develop their critical thinking, reasoning, and writing abilities in a competitive academic environment.
We understand that college life is not just about academics. It is a time for self-discovery, forging lifelong friendships, and nurturing talents. Our college offers a vibrant and inclusive campus community where students can engage in a wide range of extracurricular activities, sports and societies. These platforms enable students to explore their interests, develop leadership skills, and foster a sense of belonging.
Moreover, our college is committed to promoting diversity, equality, and social responsibility. We encourage students to actively participate in community service initiatives, take part in social awareness campaigns, and develop a global perspective. Initiatives like Unnat Bharat Abhiyaan, NSS, and Enactus engage students in meaningful outreach activities, fostering a closer connection with the community. We believe that by instilling these values, we can prepare our students to become responsible citizens who contribute positively to society.
I assure you that our institution is dedicated to providing a fulfilling and transformative educational experience. By joining our college, you will become part of a community that values excellence, embraces diversity, and fosters personal and intellectual growth.
With my wish that your expedition towards knowledge be endowed with radiance and filled with bliss, I again welcome you all to the ARSD family.
Prof. Gyantosh Kumar Jha