Principal's Welcome
Dear Students,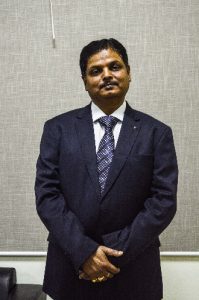 Excellence, Equity, and Inclusivity are the founding principles of Atma Ram Sanatan Dharma College. We are a NAAC-accredited A-grade institution and our NIRF All India Rank of 12 stands testament to this community's dedication towards creating an educational ecosystem that is holistic and all-embracing. At ARSD, we will do our utmost to ensure your undergraduate years are filled with purpose and provide you with the life skills required to succeed in life. Our pedagogy is influenced by the philosophy of balance and the need to develop all facets of one's personality in equal measure. Accordingly, in our stakeholders we strive to inculcate the values of integrity and commitment, in the classroom and beyond.
As an institution, our facilities are unmatched. In the streams we offer—Arts, Science, and Commerce—we have emerged as a Centre of Excellence. The establishment of the DBT Science Centre in addition to the Centre for Innovation and Entrepreneurial Leadership (CIEL) in collaboration with M/o MSME, a first for any University of Delhi college, showcases our commitment to research and innovation. We have been the recipients of several prestigious grants and are fast emerging as a hub of undergraduate research. Under the auspices of the Star College Scheme and the Star Innovation Project grant, a significant proportion of our student body is engaged in research projects under the mentorship of faculty members. Our students are thus given the opportunity to develop their higher thinking, reasoning, and writing abilities in a highly competitive and academic environment. Furthermore, we also provide vocational training with our Skill Development Cell.
A student of this College will, accordingly, be immersed in campus life that will be as rich as it is varied. The vibrant College societies: Rangayan, our dramatics society, Nimbus and Vedanta—the debating clubs, Pixellation, our Photography Club, the Eco Club and the Gandhi Study Circle, among others, provide opportunities for students to exercise their talent as well as develop their leadership qualities. The ARSD NCC troop is a highly decorated body and our NSS chapter has strong roots in the community in terms of outreach activities. With ENACTUS, we provide the opportunity to drive social change through entrepreneurship. The College has an active Placement Cell that has successfully placed students in renowned companies such as KPMG (India and Global), Ernst and Young Global, Indigo Airlines, Clairvolex, and ICICI Prudential.
The aim of ARSD College is, therefore, to produce bright young minds in synergy with their ecosystem, maximizing their potential in an ethically sound manner. As an institution, we emphasize knowledge grounded in discipline and success tempered with empathy. With joyful learning as our touchstone, I welcome you all to ARSD.
Prof. Gyantosh Kumar Jha